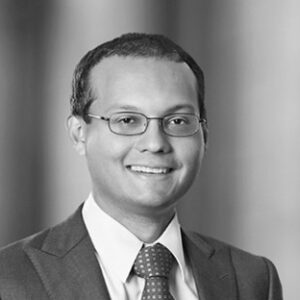 New York, NY
Henrik P. Patel
White & Case LLP

+ Follow
ABOUT
Henrik Patel, Global Head of White & Case's Employment, Compensation and Benefits practice, advises clients on the full spectrum of executive compensation and employee benefits issues. His significant experience and knowledge in this area has made him a valued resource for a range of US and international clients, including public and private companies, boards of directors and executives.
Clients look to Henrik for his ability to solve challenging compensation and benefits issues, arising both on a day-to-day basis and in the context of major corporate transactions. Working closely with the Firm's Global Mergers & Acquisitions and Capital Markets Practices, Henrik brings strategic insight to the compensation and benefits aspects of a range of large-scale deals, including public and private M&A and private equity and leveraged buyout transactions, as well as debt and equity financings, divestitures, spinoffs, split-ups and IPOs. Henrik has extensive experience with all manner of public and private company compensation issues and is a member of the Firm's Public Company Advisory, Private Equity Practice and Tax Practices. Henrik was recognized by M&A Advisor's list of "40 under 40", has been named a Leading Lawyer by The Legal 500 and a Leading Lawyer in Lawdragon in Employee Benefits & Executive Compensation.
Henrik's advisory practice spans the full spectrum of general compensation and benefits concerns, including corporate governance matters and best practices, executive compensation plan design, efficient tax structuring, employment contracts and equity incentive compensation arrangements.
Companies have come to rely on Henrik's state-of-the-art advice to help them effectively incentivize their employees, while remaining in compliance with their fiduciary and shareholder responsibilities. The regulatory issues on which Henrik provides clarity and guidance include securities, tax, public disclosure and ERISA concerns.
Henrik regularly negotiates and drafts employment, retention, separation, equity, phantom equity, bonus, change of control, non-competition, non-solicitation and other compensation-related agreements, plans and provisions, as well as relevant sections of proxy statements, periodic and current reports and registration statements.
Henrik is a frequent contributor and speaker at Global Equity Organization ("GEO") and National Association of Stock Plan Professional ("NASPP") conferences and advisor board member and contributing author to the Benefits Law Journal.
Bars and Courts
New York State Bar, 2002
Massachusetts State Bar, 2002
Education
JD, New York University School of Law, 2001
BA, Tufts University, 1998
Awards and Recognition
Leading Lawyer, Legal 500 USA, 2022
Leading Lawyer for US Corporate Employment Law, Lawdragon 500 2020-2021
Lexis Practice Advisor Author
Recognized as the Legal Influencer for Corporate – Europe (Q1 2019) by Lexology
Named to Private Funds Management's list of "30 under 40", 2015
People's Choice Award, Unemployment Action Center (UAC), 2015
Named to the M&A Advisor's list of "40 under 40" for Mergers & Acquisitions, 2015