MONTH-IN-BRIEF
(Nov 2022)
SPAC Mergers Are on the Rise
Over the past year, SPACs have been through market shifts, regulatory thrashing, economic issues, novel litigation theories, and SEC enforcement actions. But while new SPAC IPOs have slowed to a trickle, in the last three months, we saw an uptick in announced and completed SPAC mergers (deSPACs).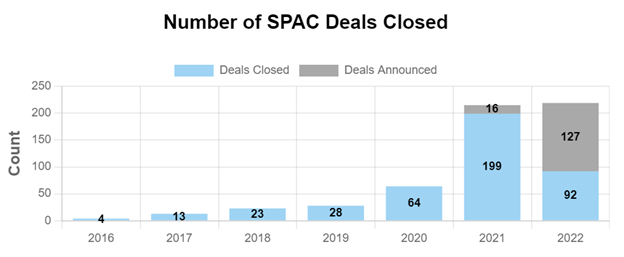 Source: SPAC Research
One deal that made headlines on November 18 and did fairly well out of the gate was the merger of Grindr, the world's largest social networking app for the LGBTQ+ community, with Tiga Acquisition Corp. Is this one deal enough to turn the tide for SPACs and open the door for other successful business combinations in early 2023? Only time will tell. For now, according to SPAC Insider, 478 SPAC teams are still looking for a target as of November 28.