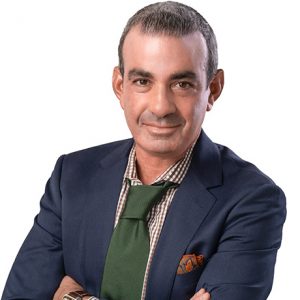 Washington, DC
Jeffrey S. Tenenbaum
Tenenbaum Law Group PLLC

+ Follow
ABOUT
Jeff Tenenbaum is one of the nation's leading nonprofit attorneys, and also is an accomplished author, lecturer, and commentator on nonprofit legal matters. As Managing Partner of the nationally recognized, Washington, DC-based Tenenbaum Law Group PLLC, Jeff counsels senior management and boards of directors of his clients on the broad array of legal and sensitive business and governance issues affecting charities, trade and professional associations, foundations, international NGOs, arts and cultural institutions, think tanks, credit counseling agencies, and other nonprofit organizations. He is widely regarded as an innovative, highly responsive attorney with great judgment who provides practical, understandable advice extending to virtually every nonprofit legal issue and best practice. Jeff also regularly represents clients before Congress, federal and state regulatory agencies, and in connection with governmental and internal investigations, enforcement actions, litigation, and in dealing with the media.
He has extensive experience with a broad array of nonprofit legal issues, including tax and federal tax exemption, corporate governance, copyrights and trademarks, meeting, vendor, and other contracts, grants, fundraising regulation and commercial co-ventures, charitable gift restrictions, employment law and CEO employment contracts, antitrust, certification and standard-setting, mergers and joint ventures, chapters, subsidiaries, and affiliates, lobbying and political activity regulation, Americans with Disabilities Act compliance, insurance, and international operations, among others.
Jeff is frequently called upon by major media outlets – in television, radio, print, online, and elsewhere – to provide commentary on news stories involving nonprofit legal issues and developments, and has served as an expert witness in several court cases on nonprofit legal matters. For 19 years, he practiced law at Venable LLP in Washington, DC; he was a partner and chaired its nonprofit practice for most of that time, served on the firm's Board of Directors for several years, and co-chaired the firm's management review process in 2016. Jeff started his career in the nonprofit community by serving as Legal Section manager at the American Society of Association Executives, following several years working on Capitol Hill as a legislative assistant.
Jeff was the 2006 recipient of the American Bar Association's Outstanding Nonprofit Lawyer of the Year Award, and was an inaugural (2004) recipient of the Washington Business Journal's Top Washington Lawyers Award. He was one of only a handful of "Leading Lawyers" in the prestigious U.S. Legal 500 Not-for-Profit rankings from 2012-18 and is one of only six lawyers in the U.S. Legal 500 Not-for-Profit "Hall of Fame." He is listed in the 2012-22 editions of The Best Lawyers in America® for Nonprofit/Charities Law nationally, and was selected for inclusion in the 2014-21 editions of Washington, DC Super Lawyers in the Nonprofit Organizations category. He was the 2015 recipient of the New York Society of Association Executives' Outstanding Associate Member Award, the 2004 recipient of The Center for Association Leadership's Chairman's Award, and the 1997 recipient of the Greater Washington Society of Association Executives' Chairman's Award. He was recognized in 2013 as a Top Rated Lawyer in Tax Law by The American Lawyer and Corporate Counsel, and, in 2011, was named as one of Washington, DC's "Legal Elite" by SmartCEO. He has been listed in the annual editions of Who's Who in American Law and Who's Who in America since 2005, was a 2008-09 Fellow of the Bar Association of the District of Columbia, and is AV® Peer-Review Rated by Martindale-Hubbell, the highest rating possible.
Jeff is the author of the book, Association Tax Compliance Guide, now in its second edition, published by the American Society of Association Executives. He also is a contributor to numerous ASAE books, including Professional Practices in Association Management, Association Law Compendium, The Power of Partnership, Essentials of the Profession Learning System, Generating and Managing Non-Dues Revenue in Associations, and several Information Background Kits. In addition, he is a contributor to Exposed: A Legal Field Guide for Nonprofit Executives, published by the Nonprofit Risk Management Center. He is a frequent author on nonprofit legal topics, having written or co-written more than 1,000 articles.
Jeff is also a frequent lecturer on nonprofit legal topics, having delivered or moderated over 1,000 speaking presentations. He served on the faculty of the ASAE Virtual Law School, and is a regular commentator on nonprofit legal issues for NBC News, The Washington Post, The New York Times, The Wall Street Journal, Los Angeles Times, The Washington Times, The Baltimore Sun, ESPN.com, Washington Business Journal, Legal Times, Association Trends, CEO Update, Forbes, The Chronicle of Philanthropy, The NonProfit Times, Politico, Bloomberg Business, Bloomberg BNA, EO Tax Journal, and other periodicals. He also has been interviewed on nonprofit legal topics on Washington, DC CBS-TV affiliate, the Washington, DC Fox-TV affiliate's morning news program, Voice of America Business Radio, Nonprofit Spark Radio, The Inner Loop Radio, Through the Noise podcasts, and other media outlets.
Education
J.D., Catholic University of America, Columbus School of Law, 1996
B.A., Political Science, University of Pennsylvania, 1990
Bar Admissions
District of Columbia
U.S. Tax Court