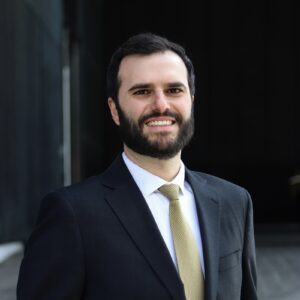 New York, NY
Joseph Mayo
New York University School of Law

+ Follow
ABOUT
Joseph Mayo is an Israeli lawyer experienced in criminal, financial, and business law. He has served seven years as a financial, cyber-security, and economic crimes prosecutor in Israel and is currently pursuing an LLM at the New York University School of Law.
Joseph handled high-profile national and international money laundering cases, cybersecurity cases involving sophisticated criminal cyber methods to defraud Israel's major banks and their clients, and financial institutions' regulations and practices, and was recognized with Outstanding Employee Award. He has also served as a Judicial Clerk for the Honorable Ester Helman, Chief Justice of the Northern District Court in Israel.
Joseph is interning at the Manhattan District Attorney's Office – Major Economic Crimes Bureau in New York as part of a Government Anti-Corruption Externship.
In addition to an LL.M. in International Law and Legal Studies at NYU, Joseph holds a Bachelor of Laws degree magna cum laude and a Master of Business Administration degree from Netanya Academic College School of Law in Israel, and a Certification of Qualification from the National Committee on Accreditation of the Federation of Law Societies of Canada.
Joseph has been recognized as a Law Student Scholar of the American Bar Association's Business Law Section and speaks three languages fluently – English, Arabic, and Hebrew.