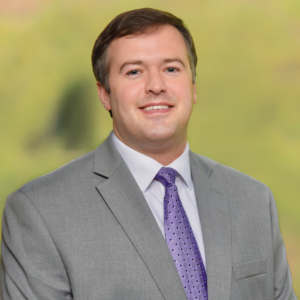 Raleigh, NC
Landon G. Van Winkle
Smith Debnam

+ Follow
ABOUT
Landon Van Winkle, Associate at Smith Debnam, credits his time serving as a mortarman in the United States Marine Corps for instilling in him the values of honor, leadership, perseverance, flexibility, precision, and attention to detail. Landon's military background provides the perfect foundation for his work at Smith Debnam, representing some of the nation's leading institutions in the consumer financial services industry.
Committed to getting it right, Landon makes it his mission to understand the client's primary and secondary goals. As Landon would say, knowing the details is 'mission-critical' because the difference between what is material and what is irrelevant in a legal matter frequently turns on subtle details. With calm precision, he can quickly zero in on the friction points in an adversarial legal matter, saving his clients valuable time and expense. Similarly, Landon's attention to detail proves invaluable in assisting clients in prospectively minimizing litigation and administrative enforcement exposure through sound compliance and risk management advice.
A member of the Consumer Financial Services and Bankruptcy teams, Landon received his J.D. summa cum laude from Campbell University's Norman Adrian Wiggins School of Law. He holds a Bachelor of Arts in Economics and Finance, with distinction, from the University of Hawai'i at West O'ahu. Following law school, Landon clerked for the Honorable Joseph N. Callaway, Bankruptcy Judge for the U.S. Bankruptcy Court for the Eastern District of North Carolina. Prior to joining Smith Debnam, Landon represented corporate and individual debtors in bankruptcy and numerous individuals in consumer protection litigation—experiences he credits with his ability to see all sides of a legal issue and to maximize the strength of his client's position.
Admissions
North Carolina State Bar, 2017
U.S. District Court for the Eastern District of North Carolina, 2017
U.S. District Court for the Middle District of North Carolina, 2019
U.S. District Court for the Western District of North Carolina, 2019
U.S. Court of Appeals for the Fourth Circuit, 2017
Education
J.D., summa cum laude, Campbell University – Norman Adrian Wiggins School of Law, 2017
B.A., with distinction, the University of Hawai'i at West O'ahu, 2014, Economics & Finance
Professional Affiliations
American Bankruptcy Institute, Member, 2017-current
American Bar Association, Member, 2017-current
North Carolina Bar Association, Member, 2017-current
Conference on Consumer Finance Law, Member, 2021-current
North Carolina Creditor's Bar Association, Member, 2021-current
Awards & Recognition