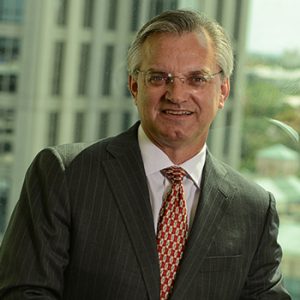 Fort Lauderdale, FL
Robert W. Barron
Berger Singerman

+ Follow
ABOUT
Robert W. Barron is a Florida-based business attorney with significant experience with real estate asset and financing transactions, corporate acquisition and disposition transactions, and business and debt restructurings.
Robert has significant experience in real estate asset transactions involving multifamily/apartments, condominium projects, shopping centers, office buildings, hotels, industrial properties and undeveloped land and the trading in debt secured by these types of assets.  Robert represents borrowers and lenders in real estate mortgage financing transactions, including representing borrowers in commercial mortgage backed securities (CMBS) loans.  He also represents buyers and sellers in the acquisition and disposition of commercial real estate assets.
Within the commercial real estate industry, Robert represents clients with the acquisition and disposition of office, industrial, multifamily properties, luxury and near-luxury hotel properties and the negotiation of leases, property management agreements and hotel management contracts. He represents lenders and borrowers in commercial real estate loan transactions and workouts (including defeasance opportunities) as well as owners and developers in connection with leasing transactions, construction projects and related construction and architect agreements.
Robert assists clients with the negotiation, formation, and restructuring of complex corporate, limited partnership and LLC structures for corporate and real estate asset transactions, including and the structuring and negotiation of shareholder agreements, limited partnership agreements and LLC operating agreements and the negotiation and settlement of internal disputes among shareholders, partners and LLC members.
Robert has significant experience with acquisitions and dispositions of corporate businesses (including portfolio companies and subsidiaries), venture capital investment and investment partnership transactions, formation and capitalization of corporations, limited partnerships or limited liability companies and asset-based corporate financing for businesses.  Robert represents corporate clients with their on-going corporate and operational matters, including, corporate governance issues and the structuring, preparation and negotiation of employment agreements, non-competition agreements, severance agreements, confidentiality, distribution, sales, license, manufacturing and other general business contracts.
He represents clients involved in distressed corporate and partnership restructuring transactions – representing from time to time either the buy side or the sell side – whether in connection with a bankruptcy proceeding (including the representation of debtors or purchasers in Section 363 asset auction transactions in connection with a bankruptcy proceeding) or outside of the bankruptcy process. Robert works closely with the Business Reorganization Team of the Berger Singerman in connection with such restructuring matters.  He has worked with borrowers, guarantors and lenders in working out or restructuring distressed loans with an aggregate outstanding balance in excess of a billion dollars.
Robert also advises not for profit companies, educational organizations and other charities in connection with the use of entrepreneurial strategies to obtain capital and to accomplish their mission and purpose, including through the use of program related investments provided by private foundations and funds provided by donor advised funds.