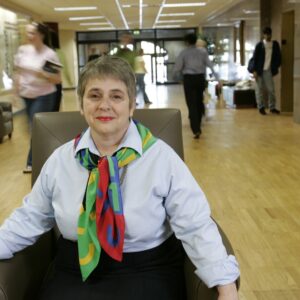 Bloomington, IN
Sarah Jane Hughes
Maurer School of Law, Indiana University

+ Follow
ABOUT
Sarah Jane Hughes is the Indiana University Maurer School of Law University Scholar and Fellow in Commercial Law.  Before joining the faculty as a visiting professor in 1989, Ms. Hughes was an Attorney-Advisor at the Federal Trade Commission focusing on retail payments, consumer credit protection (including the enforcement of the Truth-in-Lending Act and the FTC's trade regulation rule Preservation of Consumers' Claims and Defenses), and financial privacy issues.
Ms. Hughes has co-authored with David P. Fidler an ABA book, Responding to National Security Letters: A Guide for Practitioners (2009), and curated and co-edited with Candace Jones and Stephen T. Middlebrook, another, Radio-Frequency Identification Devices and Near-Field Communications (2013).  She has been a regular contributor to the Cyberspace Law Annual Survey, which is published in the Fall—Winter issue of The Business Lawyer, since 2006.  She is the author of the payments chapters in the non-Uniform Commercial Code Payments volume of the Hawkland Series on the Uniform Commercial Code, which is published annually by Thomson Reuters.  Her recent scholarly articles have focused on cryptocurrencies and their regulation, including her 2015 article with Stephen T. Middlebrook in the Yale Journal on Regulation and her 2020 article in the Texas Journal of International Law published by the University of Texas School of Law.
She is an elected member of the American Law Institute. Ms. Hughes served briefly as the ABA Business Law Section's advisor to the Uniform Law Commission's Drafting Committee on the Money Services Act (2000), and as the Reporter for two drafting projects sponsored by the Uniform Law Commission the Uniform Regulation of Virtual-Currency Businesses Act (2017) and the Supplemental Law for the Uniform Regulation of Virtual-Currency Businesses Act (2018). She and Mr. Middlebrook are long-time co-chairs of the Cyberspace Law Committee's Subcommittee on Electronic Payments and Financial Services. Ms. Hughes also participates in the work of the Uniform Commercial Code, Banking Law, and Consumer Financial Services Committees of the Business Law Section.