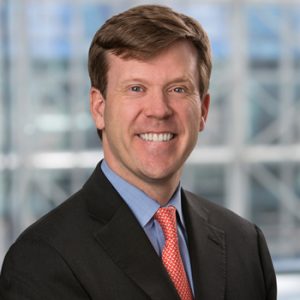 New York City, NY
William J. Curtin III
Hogan Lovells

+ Follow
ABOUT
Bill Curtin helps clients achieve their business goals. Across industries, Bill is known for executing complex M&A transactions by finding commercial solutions to meet his clients' objectives.
Bill is the Global Head of our Mergers and Acquisitions practice. He is recognized as a leader in the field of cross-border transactions, having been named in each of the past seven years among the International Who's Who of Mergers & Acquisitions Lawyers and honored as a Dealmaker of the Year by The American Lawyer.
Bill has developed his legal acumen through significant experience as an international lawyer practicing out of major commercial centers around the world. From 2003 until 2008, Bill was based in Paris and led the development of Hogan Lovells' operations in France. From 2008 to 2010, Bill was based in London and served as Head of Hogan Lovells' European Corporate Group. Since 2011, he has been based out of the firm's Washington and New York offices, serving multinational clients on their business initiatives around the world.
Bill is fluent in French and has studied at the London School of Economics and the Wharton School of Business at the University of Pennsylvania. Before entering law school, Bill spent an academic year in Paris on a Fulbright Scholarship, where he served as an English teaching assistant. He is a frequent commentator on the state of M&A (with recent appearances on Bloomberg, CNBC, and in the New York Times) and lecturer on corporate law (including at the law schools of Duke University, Georgetown University, and the University of Virginia). Bill is co-author of a comprehensive article on cross-border business combination transactions, which has been cited by the U.S. Securities and Exchange Commission as one of several authoritative sources on such transactions.