"Global Rule of Law Trends Pose Challenges for ESG Movement" is the fourth article in a series on intersections between business law and the rule of law, and their importance for business lawyers, created by the American Bar Association Business Law Section's Rule of Law Working Group. Read more articles in the series.
---
Growing investor concern for Environmental, Social, and Governance (ESG) issues has business lawyers scrambling to advise clients on an ever-expanding list of norms, best practices, and regulatory and reporting requirements. This advice tends to focus on the immediate ESG dimensions and impacts of a given client's business activity, but the broader rule of law context in which companies hire, buy, manufacture, and sell has significant ESG implications that business lawyers need to incorporate into their advice.
The 2021 Rule of Law Index® from the World Justice Project (an American Bar Association spinoff for which I work) shows rule of law declining globally and underscores the challenges these trends pose to the private sector ESG movement. The data reveal persistent widespread corruption, growing discrimination, and failing justice systems, among other rule of law issues confounding ESG compliance. Businesses looking to make meaningful and sustainable ESG progress need strategies that not only protect them against these rule of law realities but also help reverse the negative trends and strengthen the rule of law over the long term.
The Rule of Law Context for ESG Advice
The mushrooming field of ESG compliance encompasses everything from recruiting and supporting a diverse workforce to minimizing environmental impact and safeguarding against corruption and human rights abuses. Business lawyers advising on these issues tend to focus on the direct ESG impacts of and risks to their clients' operations, but the state of rule of law in the broader society provides important context for this advice. Where the rule of law and governance are strong, the private sector benefits from state action on a wide range of fronts, from combating discrimination and corruption to protecting rights, maintaining security, and enforcing environmental regulations. Good governance of this nature complements and reinforces corporate best practices and internal controls. By contrast, contexts in which rule of law is weak present significant ESG challenges to which even the best compliance program is vulnerable. For this reason, comprehensive ESG advice incorporates a strong understanding of the broader rule of law context for business operations and provides specific strategies for addressing risks that context presents.
New data from the World Justice Project provide a valuable—and concerning—input to such ESG advice. For the fourth year in a row, the recently published 2021 WJP Rule of Law Index® shows the rule of law declining in a majority (74.2%) of the 139 countries studied. The Index reflects the views of 138,000 households and 4,200 legal practitioners surveyed about how the rule of law works in practice. The study scores and ranks jurisdictions on the following eight factors of the rule of law: constraints on government powers, absence of corruption, open government, fundamental rights, order and security, regulatory enforcement, civil justice, and criminal justice. The Index is widely regarded as the leading source of original rule of law data, relied upon by a range of governments, intergovernmental organizations, corporations, scholars, civil society, and the media. An interactive Rule of Law Index data site enables users to probe the data for particular jurisdictions, identify comparative weaknesses in specific dimensions of the rule of law, and observe trends over time.
Since the last Index was published in March 2020, a majority of countries studied declined in all factors except "order and security." The negative trends hold in all regions of the world and in both developed and developing countries. Of particular concern to business lawyers is the decline in the Index measures of open government, regulatory enforcement, and civil justice, areas in which we had seen modest improvements in recent years.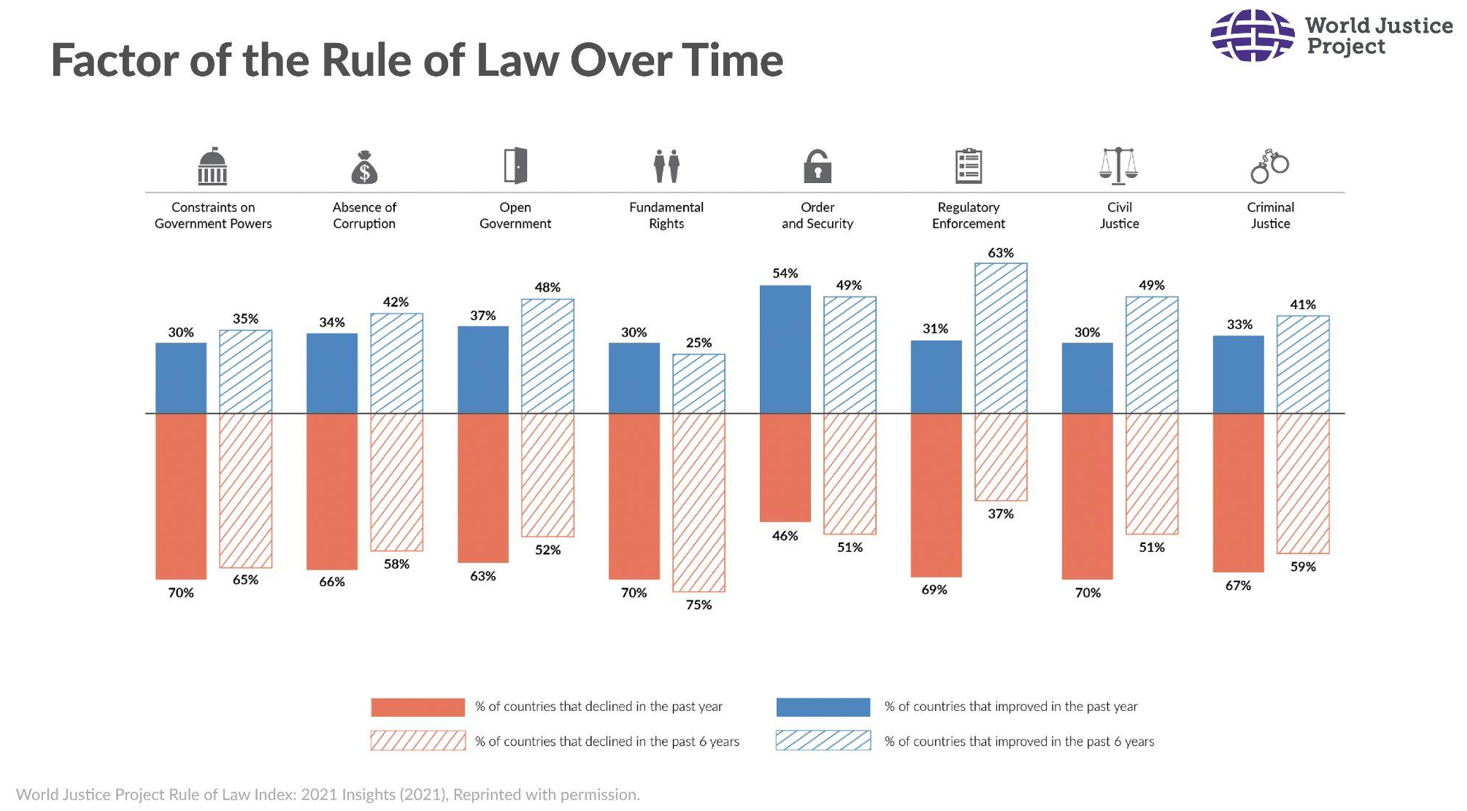 From an ESG perspective, the persistent, broad, and deep deterioration in Index measures of constraints on government powers, corruption, and respect for rights is a wake-up call. While businesses have in recent years made important strides to improve governance, compliance, and accountability in their boardrooms, factory floors, and supply chains, powerful negative rule of law forces have been pulling in the opposite direction and risk undermining private sector ESG gains. Business lawyers advising clients on ESG matters should be helping them develop strategies for contending with these broader negative rule of law developments.
Proactive Strategies for Addressing Rule of Law Issues
Specific strategies for mitigating rule of law-related ESG risk depend on the context, the nature of the relevant governance weaknesses in the business operating environment, and the vulnerabilities of the particular business operation. Companies and the lawyers who advise them generally prioritize prophylactic measures, putting in place training, safeguarding, assessments, controls, and other policies and practices to protect their operations from the risks posed by the operating environment. While such approaches are important, they do little to address the underlying rule of law conditions generating ESG risk. Too often, such approaches amount to a privatization of governance, letting governments off the hook for failing to uphold the rule of law. Over the long term, even the best compliance programs leave businesses susceptible to risks posed by an operating environment characterized by weak rule of law. As the data outlined above underscore, that risk is only growing. For that reason, a business lawyer's advice on ESG matters should not just entail defensive strategies to ensure compliance in a client's operations but also include proactive approaches to strengthen the rule of law more broadly in society.
A proactive business strategy for advancing the rule of law can have many different elements. Company leaders can signal publicly and privately that the rule of law matters, that they track government performance on rule of law metrics such as the WJP Rule of Law Index®, and that this performance affects business decisions. When private sector leaders say that the rule of law matters to their business—as Microsoft President Brad Smith did on the occasion of the Index launch—it creates powerful incentives for government actors to embrace reform. It can be challenging for an individual business to take on what can be politically sensitive rule of law issues. But businesses can make the point effectively through trade and professional associations and networks, such as the US Chamber of Commerce Rule of Law Coalition or the Corporate Alliance for the Rule of Law. In this regard, the American Bar Association Business Law Section's Rule of Law Working Group is developing a valuable new initiative to encourage its lawyers to join with business organizations and clients in crafting strategies and engaging in direct action to strengthen the rule of law.
Beyond broadly signaling concern about the rule of law, businesses can engage government counterparts to address specific governance issues that affect the operating environment. This can entail supporting and promoting research on international standards, best practices, and model reforms and advocating their uptake by governments. Again, this can be done by individual companies or in association with others. Transnational businesses can also engage their home government to address rule of law issues in its bilateral and multilateral dialogue with other countries. Finally, businesses can provide financial and in-kind support to organizations working to address rule of law weaknesses. The World Justice Project's World Justice Challenge competition identifies hundreds of such change-makers working across a wide range of issues of concern to the private sector.
The new Rule of Law Index® data underscore the urgency of these kinds of proactive strategies to strengthen the rule of law as a critical bulwark for ESG progress. Without such strategies, ESG efforts provide little more than a flimsy shelter against a growing, powerful storm. Private sector action to take on the negative rule of law trends and work to reverse them promises sunnier days and sustainable ESG progress.