In the halls of justice and chambers of law, the narrative of women has evolved from whispers to powerful testimonials of achievement and ambition. The legal system, renowned for its rigorous traditions, has historically been a bastion of male dominance. Nevertheless, through perseverance, talent, and a fierce commitment to justice, women have slowly but surely carved out a place of honor and respect within its esteemed corridors. This article aims to trace the journey of women in the legal profession, from trailblazing pioneers of yesteryear to contemporary advocates striving for equal representation and rights. Leveraging insights from prominent legal luminaries—Monika McCarthy, Danielle Hall, Valerie Hletko, Jonice Gray Tucker, and Lynette Hotchkiss—at the panel discussion titled "See Her, Hear Her: Historical Evolution, Advocacy, and the Path Ahead" at the American Bar Association's Business Law Fall Meeting in Chicago on September 8, 2023, this article explores women's challenges, milestones, and future prospects in the legal domain, framed against the broader canvas of societal change and the enduring quest for gender parity.
Historical Context
"Women belong in all places where decisions are being made. It shouldn't be that women are the exception." —Ruth Bader Ginsburg
The legal profession boasts a rich history marked by pioneering achievements of women. From the 1600s through today, women have consistently forged paths, shattered traditional barriers, and claimed their deserving space in a field once predominantly ruled by men.
Pioneers in the Legal Arena
Margaret Brent stands out as America's first woman lawyer in 1648. A significant figure in Maryland, her achievements set the stage for more to come. Following in her footsteps was Arabella Mansfield, the first woman to be admitted to a state bar in the United States in 1869. Diversity further expanded with Charlotte E. Ray becoming the first African American woman lawyer and the first woman admitted to the bar in the District of Columbia in 1872. The twentieth century witnessed milestones like Florence E. Allen becoming the first woman to serve on a state supreme court in 1920 and Pauli Murray, known for her invaluable contributions to civil and women's rights, becoming the first African American recipient of a JSD from Yale Law School in 1965. Fast-forward to recent times: Sandra Day O'Connor became the first female justice to serve on the U.S. Supreme Court, appointed by President Ronald Reagan in 1981, and Paulette Brown stands tall as the first African American woman to ascend to the ABA presidency in 2014.
However, it is essential to zoom out beyond these individual stories of triumph and resilience and examine the broader progression.
The Ebb and Flow of Women in Law: 1951–2022
Data spanning over seven decades paints an intriguing picture for women in law. While the 1950s witnessed a mere trickle of female representation, the percentage of legal practitioners that are women increased to 38 percent by 2022.[1] The 1970s, in particular, marked a dramatic uptick.[2] Yet, the last decade's modest growth suggests that the journey to equality is far from over.[3]
Women in the Legal Profession: 1951–2022[4]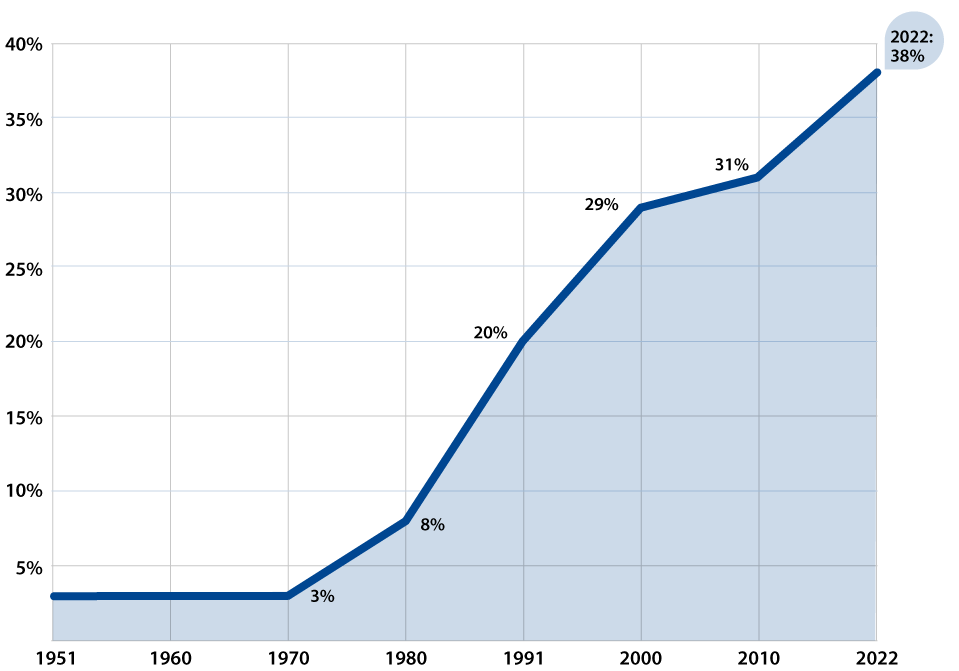 Women in the Legal Profession: 2010–2022[5]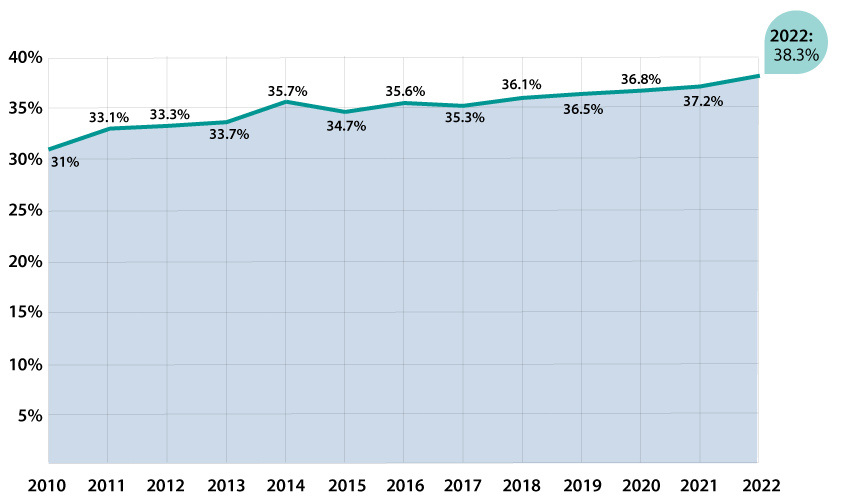 Academia: Progress—with Potholes
Delving into the world of legal academia, the trends are equally riveting. While the turn of the millennium saw more women entering law schools, there is an alarming drop-off in the transition from law school to professional attorney. However, the last two decades have seen a surge in female law school deans, hinting at a changing leadership landscape.
Women as a Percentage of All Law Students: 2000–2021[6]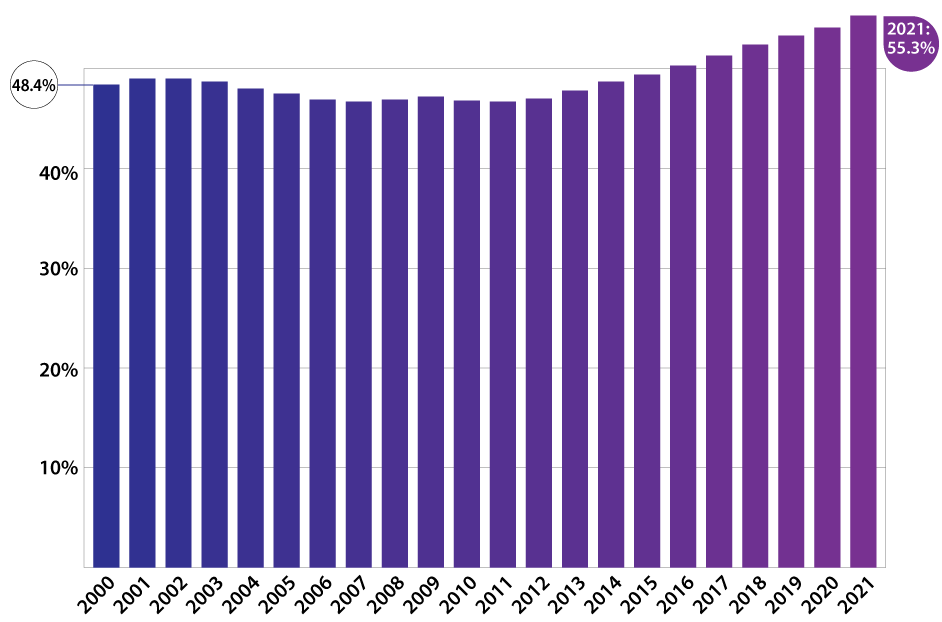 Female Law School Deans: 2000–2022[7]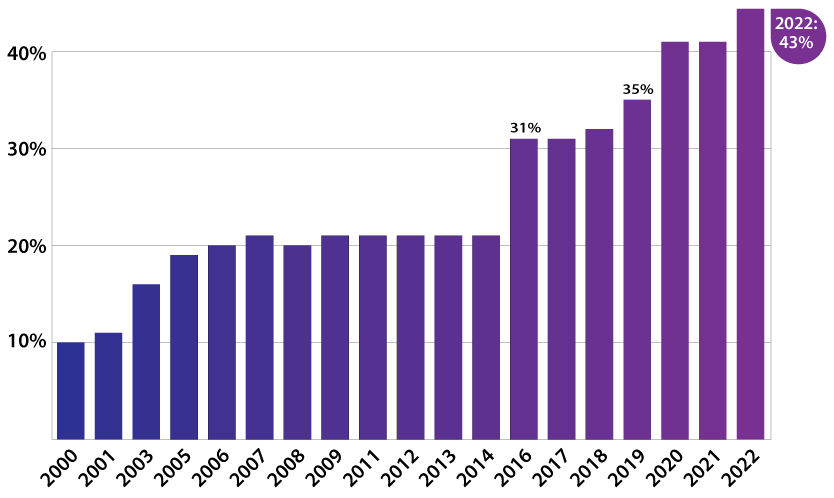 The Law Firm Labyrinth
But what about the labyrinth of law firms? While women make up 47 percent of associates in law firms, the numbers drastically decrease further up the hierarchy.[8] Only 22 percent of equity partners and 12 percent of managing partners are women.[9] And the gender pay gap? It further widens this divide.
However, it is not just about representation in law firms' highest echelons; delving into firm policy perceptions offers more nuanced insights. For instance, 88 percent of male attorneys believe that their law firm acknowledges gender diversity as a priority, while only 54 percent of their female peers shared this sentiment.[10] This disparity in perception permeates other areas, from leadership promotions to retention policies.
To truly grasp the dynamics at play, however, one must look beyond these corporate metrics to consider the lived daily experiences of female attorneys. At the panel discussion at the American Bar Association's Business Law Fall Meeting, panelists McCarthy, Hall, Hletko, Tucker, and Hotchkiss highlighted these day-to-day experiences.
McCarthy shared her initial experiences in a small law firm where she was the only female attorney. From male colleagues not knowing how to act around her to learning about sports to fit in, her narrative painted a picture of the unique challenges faced by women in male-dominated settings. She also highlighted the discomfort of working closely with a partner who smoked cigars in his office, revealing the distinct professional challenges of the time.
Hall emphasized that while her firm had several female partners offering mentorship, there remained an evident disconnect. Casual discussions, often centered on sports, sometimes left her feeling out of the loop, even if broader strides were being made.
Hletko traced the evolution of law firms, spotlighting her time at a firm. She observed an early commitment to gender inclusivity and the presence of influential female partners who shaped the firm's culture.
Tucker delved into the pressures of managing work and family life and pay equity challenges. Her narrative of working beyond committed hours yet receiving only 80 percent of the salary that her male counterparts received resonated as a stark example of gender disparities in compensation.
Hotchkiss recounted the dual pressures of work and motherhood while practicing in Anchorage, Alaska, in the 1980s. Her stories of gender biases in courtrooms and often being mistaken for a secretary unveiled the subtler, daily challenges that women in law endure.
Day-to-day interactions and experiences, often unseen in broader statistics, can significantly shape an attorney's sense of self and career direction. From missed assignments and overlooked promotions to demeaning encounters and identity mix-ups, female attorneys face numerous daily challenges.
Female Equity Partners in Law Firms: 2006–2020[11]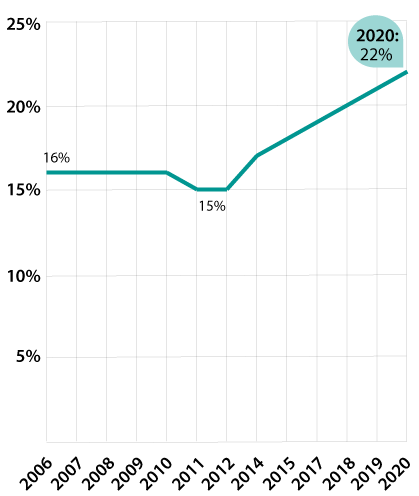 Women in Law Firm Leadership Roles: 2020[12]

Women in Law Firms: 2020[13]

Compensation of Female Lawyers as a Percentage of Compensation of Male Lawyers: 2020[14]

Gender of the Top-Earning Attorney in the Law Firm: 2005–2020[15]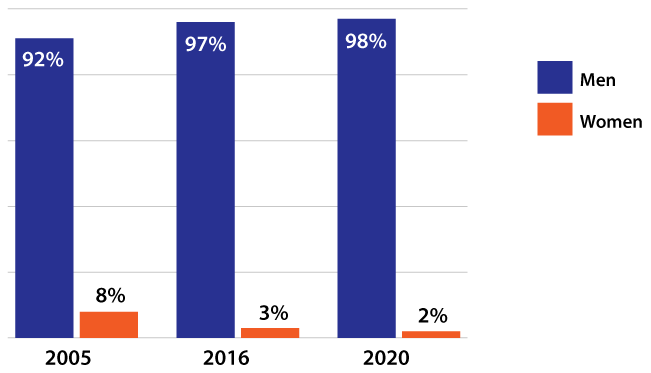 How Men and Women View Law Firm Policies (Percent Who Said Yes)[16]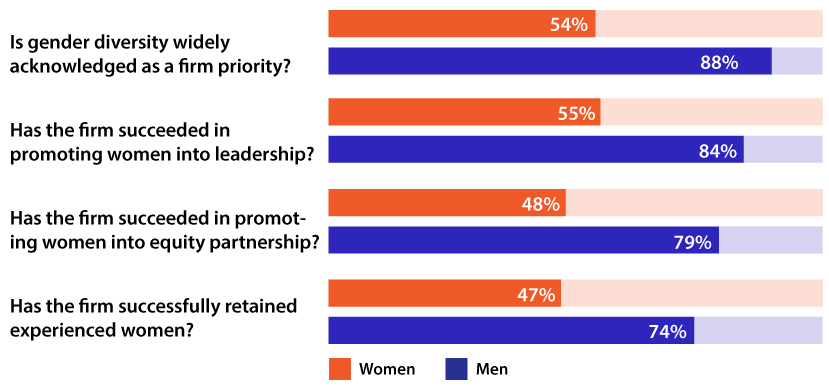 Job Satisfaction (Percent Extremely or Somewhat Satisfied)[17]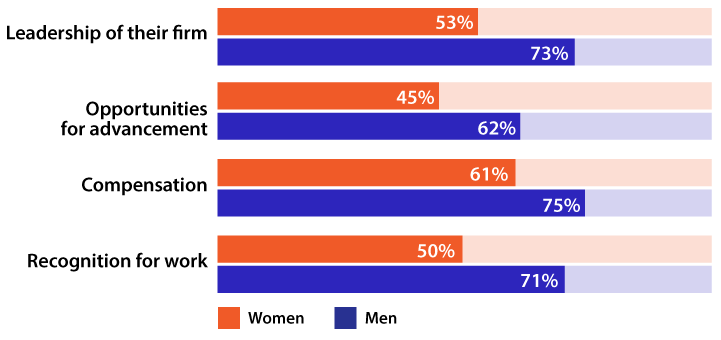 Everyday Experiences Because of Gender[18]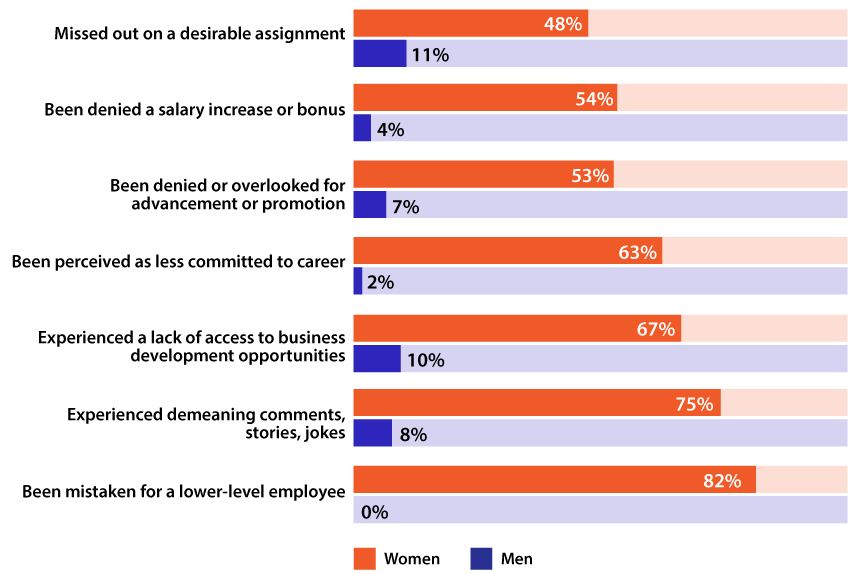 From Corporate Legal Departments to Courtrooms: A Mixed Bag
Beyond law firms, the in-house and judiciary landscapes present a mix of progress and stagnation. The promising 67 percent of general counsel roles occupied by women contrasts sharply with the subdued representation in the judiciary, especially at the federal level.[19]
The surge in women general counsels can be attributed to a couple of factors. Firstly, over the last couple of decades, corporate environments have increasingly recognized diversity's value at decision-making levels. Companies believe that diverse leadership brings varied perspectives, promoting innovative solutions and better decision-making.[20] Secondly, corporate mentoring programs and initiatives to foster female talent have become more commonplace. Such programs and initiatives provide women the necessary resources, guidance, and opportunities to ascend to top legal positions within companies.[21] And, in good news for women, industries are increasingly inclined to hire general counsels with experience: 41 percent of externally hired general counsels in 2020 had experience; since then, that percentage has jumped to 60 percent.[22]
However, while the corporate world may be progressing, it's evident that the judiciary still has some catching up to do. The disparity in representation at the federal level can be attributed to various historical, institutional, and societal factors that have traditionally limited opportunities for women in the judiciary.[23]
Federal Judges by Gender: 2022[24]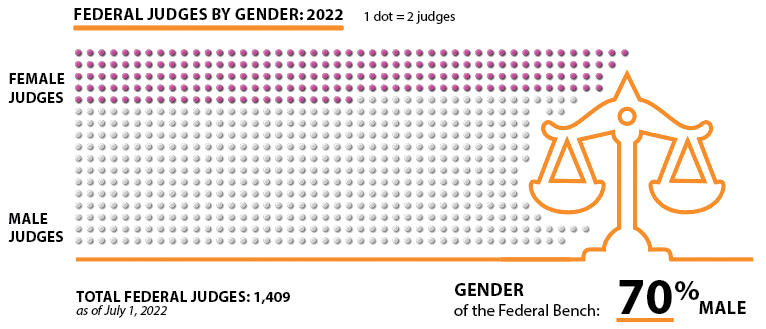 Female State Supreme Court Justices: 2022[25]

The tale of women in law is a saga of relentless determination, marked triumphs, and persistent challenges. The landmarks are many, but the journey to comprehensive gender parity remains ongoing. It is not just about achieving numerical equality but forging a future that ensures fair work distribution, equitable pay, and an inclusive environment for all.
Advocacy and Activism
"Each time a woman stands up for herself, without knowing it possibly, without claiming it, she stands up for all women." —Maya Angelou
In the intricate tapestry of the legal profession, the need for gender equality remains pressing. Advocacy, activism, and allyship stand at the forefront of this evolving narrative. This section sheds light on the pivotal role of these pillars, focusing on the strategies that women can employ to advocate for themselves and their counterparts. Furthermore, it emphasizes men's integral role as allies, advocating for and alongside their female colleagues. By merging the forces of self-advocacy, collective activism, and intentional allyship, we aim to guide the legal community toward a landscape that not only is equitable but also thrives on collective strength and unity.
Allyship
Historically, the legal sphere has been dominated by men. However, women have established their rightful place through consistent advocacy and persistence. Today, it is vital to recognize the crucial role men play as allies, working in tandem with women to cultivate an ethos of mutual respect and collaboration.
For men seeking to be proactive allies, here are some actionable steps:
Celebrate Achievements: Actively acknowledge and appreciate the accomplishments of female peers.
Promote Equitable Distribution: Move beyond gendered expectations and ensure fair delegation of responsibilities.
Champion Safe Spaces: Advocate for settings where open and unbiased dialogues can thrive.
Facilitate Networking: Guarantee that female colleagues have equivalent access to pivotal career opportunities.
Encourage Feedback: Understand that being an ally is an evolving commitment; remain receptive to change.
Invest in Mentorship and Sponsorship: Harness your influence to propel the careers of female colleagues.
This topic was another focal point during the panel discussion at the American Bar Association's Business Law Fall Meeting. McCarthy emphasized the vital nature of allyship, touching upon persistent biases that women face and urging active countermeasures against such biases. Hletko brought forward the nuanced strategy employed by some male allies of tactfully steering conversations back to their female colleagues when someone attempts to direct questions and comments to the male attorney. Tucker illuminated potential biases that women might harbor against one another, emphasizing that advocacy against gender discrimination should transcend individual perspectives, and noted the intersectional nature of the challenges that many female attorneys face.
Genuine gender parity in the legal domain requires comprehensive allyship. This entails dismantling entrenched biases and fostering a genuinely equitable work environment. As we further delve into the intricacies of women's experiences in the legal realm, it becomes evident that mentors play a pivotal role in shaping these journeys.
The Transformative Influence of Mentors
Mentorship is a beacon in the maze of professional journeys, guiding and molding individuals' trajectories. The essence of mentorship transcends mere knowledge transfer; it encapsulates confidence-building and perspective-sharing. A paradigm shift is imperative for meaningful mentorship: firms and senior attorneys must move away from delegating rudimentary tasks to women. The emphasis should be on equipping mentees, especially those from diverse backgrounds, with the requisite tools to navigate specialized fields like law.
Hall candidly shared, "As a first-generation college and law student, I have been blessed with both formal and informal mentorship throughout my journey. One of the biggest game changers is having a mentor who gets where you're coming from, understand[s] those knowledge gaps, and provid[es] insights without always waiting for you to ask."
Hotchkiss reflected on her early career, stating, "The term 'mentor' wasn't familiar to me early on. However, in the late eighties, I had the privilege to work with leading banking and consumer finance attorneys across the country. They mentored me in ways they probably weren't aware of. Most were males, yet they were supportive, encouraging, and accepting. Throughout my career, I've been told by many women that they see me as a mentor—often, it was unbeknownst to me. The ABA has offered me numerous opportunities, and I always urge women to engage, especially within the Consumer Financial Services Committee. It's essential to identify one's passion, skills, and aptitudes and foster them. Whether it's organizing, speaking, or writing, everyone has a unique contribution to make. Tailoring mentorship based on individual skills and passions is the most effective way forward."
Grasping the difference between mentorship and sponsorship is crucial in the legal world. Both offer distinct advantages: mentors provide guidance and share wisdom, while sponsors directly influence an individual's career. The complex law landscape further highlights the need for mentors and sponsors, particularly as advocates for visibility and representation. The ripple effects of a sponsor or mentor's visibility and accessibility are profound. Channeling and amplifying one's strengths under such guidance can shape a lasting legacy. Ultimately, mentorship and sponsorship are not just tools but essential forces, driving representation and advocacy and instilling a responsibility to uplift the coming generation of professionals.
Additionally, in the demanding environment of the legal profession, there is a compelling argument to be made for the significance of professional coaching. McCarthy's experience serves as a poignant testament to this. She remarked, "Being in-house, I was very blessed in my career to work for a large company and had the privilege of having a professional coach for seven years. While some might raise an eyebrow at the fact that he was an older white male, he proved to be an invaluable coach." Emphasizing the sheer pace and pressure of juggling various roles, from professional duties to personal responsibilities such as parenting or caregiving, McCarthy said, "In such times, a professional coach becomes indispensable. They guide you, helping outline and stick to your short-term and long-term goals." McCarthy's unequivocal endorsement of the coaching approach underscored its transformative potential: "I highly recommend it."
The dynamics among advocacy, activism, and allyship are crucial for reshaping and refining professional trajectories in the legal profession. As we have delved into the transformative impact of mentorship and sponsorship, it is evident that these instruments are not just about climbing the professional ladder but about building more robust, more inclusive rungs. Both male allies in the legal field and mentors of all genders have the power to redefine industry norms, ensuring that every voice is heard, every accomplishment acknowledged, and every bias actively addressed. In embracing these roles, we challenge the status quo and set a precedent for future generations. The insights shared by respected professionals like McCarthy, Hletko, Tucker, Hall, and Hotchkiss serve as a testament to this evolution. As the legal field continues to evolve, each professional must champion these ideals, fostering an environment where growth is collective and individualized. In doing so, we create a legacy that outlives our careers, pushing the legal profession into a more inclusive and progressive future.
Future of the Legal Profession
"The question isn't who's going to let me; it's who's going to stop me." —Ayn Rand
The modern legal landscape is considerably more inclusive than a century ago, yet the work is far from done. The legal profession is undergoing transformative shifts as technology, globalization, and societal values evolve. Women lawyers today are not merely active practitioners but also innovators, thought leaders, and influencers. In exploring the trajectories of women in law, the panelists shared their insights and predictions for the future.
Hall emphasized the importance of recognizing and addressing the distinct experiences of women of color and their white counterparts. In the evolving legal environment, it is imperative to advance, notice, and genuinely understand these nuances, relentlessly propelling women of color forward.
Hletko's voice added a layer of urgency, raising concerns about potential challenges facing diversity, equity, and inclusion ("DEI") programs, especially in the wake of specific lawsuits and decisions. Given the indispensable value these programs bring, she noted that there is a critical need for firms to unite in ensuring that DEI initiatives are defended and strengthened.
Tucker's journey further enriched the discussion. Her discussion of her unexpected appointment as an independent director for a major corporation shed light on the significance of women expanding their horizons and the importance of representation in diverse boards and platforms. Her story underscored the value of mentorship and sponsorship, showcasing how key figures can open unforeseen doors.
Highlighting another facet of the discussion, Hotchkiss drew attention to an alarming inconsistency: the gap between the number of women in law schools and those in active practice. Understanding the reasons behind this disparity is as crucial as developing strategies to eliminate these barriers, she said. Moreover, she pointed to the rise of remote work, catalyzed by COVID-19, as a possible game changer. This shift in how we work offers a renewed perspective on work-life balance, which could significantly reshape women's roles in the legal realm.
The future of the legal profession, while challenging, holds promise. Guided by mentorship, strengthened by representation, and backed by progressive workplace dynamics, women are poised not just to navigate but to lead tomorrow's legal world. The journey ahead, while demanding, offers views of unparalleled opportunities and achievements for women in law.
Conclusion
The march of women through the archives of the legal profession is a story of a tenacious battle against established norms, yet it also heralds a promise of a more democratic future. The women chronicled in this article symbolize individual victories and collective strides toward breaking barriers and forging a path paved with equity, respect, and opportunity. As we reflect on history and anticipate the future, it is imperative to recognize the shared responsibility of the entire legal community, irrespective of gender, to ensure that the scales of justice balance the letter of the law and the spirit of inclusivity and fairness. While significant progress has been made, the journey ahead requires continued vigilance, relentless advocacy, and an unwavering commitment to ensuring that every voice within the legal profession is both seen and heard. The stories of these remarkable women serve not just as inspiration but as a clarion call for collective action, urging us to build upon the foundations they have laid and push forward toward a more inclusive legal horizon.
---
Jaline Fenwick, Esq., serves as vice president and assistant general counsel at JP Morgan Chase Bank, N.A. The views expressed herein are those of the author; they do not reflect the views of JP Morgan Chase Bank, N.A.
---