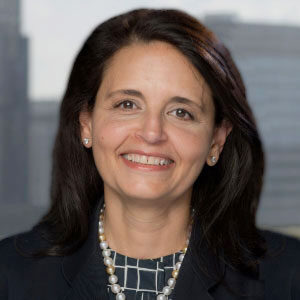 New York, NY, and London, UK
Dr. Faten Sabry
NERA Economic Consulting

+ Follow
ABOUT
Dr. Sabry (Managing Director, Chair of NERA's Global Securities and Finance Practice, Bankruptcy Practice Chair) received her PhD in Business from Stanford Business School and was awarded the J.M. Olin Graduate Fellowship, the Graduate School of Business Fellowship, and a Ford Foundation Fellowship. She received her BA, magna cum laude, and her MA in economics from the American University in Cairo. In addition, she has been designated by the American Statistical Association as an Accredited Professional Statistician. Prior to joining NERA, Dr. Sabry was a Post-Doctoral Fellow at the International Food Policy Research Institute and an assistant professor of economics at the American University, where she taught graduate and undergraduate economic courses.
She is the author of various articles on the economics of subprime lending, the credit crisis, the impact of securitization on the cost of credit and liquidity, econometric analysis of mutual funds' advisory fees, claiming behavior, and determinants of anti-dumping protection. Her research has been published in the Journal of Structured Finance, Journal of Investment Compliance, Journal of Alternative Investments, Business Economics, International Trade Journal, and others. Dr. Sabry is the lead author of "Residential Mortgage Defaults, Foreclosures, and Modifications" in The Handbook of Mortgage-Backed Securities (Frank J. Fabozzi, ed., 2016), as well as an econometric study on the impact of securitization before and after the credit crisis for the American Securitization Forum. She is a member of the American Finance Association and the American Bankruptcy Institute.
She is a Managing Director and Chair of the Global Securities and Finance Practice at NERA. She provides economic consulting and expert testimony in securities, bankruptcy, and complex damages. She is also the Chair of NERA's Bankruptcy Litigation Practice and leads the Securities and Finance Practice's subprime taskforce. She has performed analyses involving issues of class certification, econometric modeling, liability, fraudulent conveyance, and damages in cases ranging from contract disputes to valuing a portfolio of mortgages. She has assessed risk management models and examined the prudence of investments including hedging strategies.
Dr. Sabry has consulted on the valuation of fixed income securities, derivatives, businesses, and litigation settlements. In particular, Dr. Sabry has consulted on complex securities including cash and synthetic CDOs as well as asset- and mortgage-backed securities. She has also evaluated rating agencies' models, loan loss prediction models, and cash flow models. Dr. Sabry has testified as an expert at trial in State and Federal Courts as well as at a FINRA proceeding.
Dr. Sabry's product liability work includes: estimating the future liabilities in cases involving asbestos, silica, pharmaceutical products, medical devices, automobiles and construction products; analyzing liabilities related to environmental contamination in cases including the Met-Coil bankruptcy Trust and the future silica and asbestos liabilities for the Tyler Pipe/Swan Transportation bankruptcy Trust; assessing recall costs and diminution of value for automobile and construction products; analyzing insurance allocation; applying statistical and content analyses to examine product identification; and analyzing class certification in consumer class actions, including actions related to consumer finance and credit as well as automobile recalls.