Are you adding "discrimination" to your #MeToo representations alongside "sexual harassment?" Have you considered employing the "has investigated" alternative to the popular "no allegations" variation?
We last conducted an in-depth review of #MeToo representations and warranties when they were still new in 2019, and, because we have continued to see these provisions included in even some of the largest M&A deals, we recently took a fresh look. We reviewed 311 billion-dollar M&A agreements signed between January 2018 and March 2022 containing #MeToo representations and warranties.
We have identified the most common approaches deal parties have taken in drafting these provisions over the past four years, as well as new and emerging approaches worth considering.
These Are Not Mere 'Compliance With Laws' Reps
The #MeToo representation and warranty, also referred to as a "Weinstein clause," is a provision in mergers and acquisitions agreements that emerged around 2018 along with the #MeToo movement. These provisions were designed to address heightened liability risks associated with sexual harassment incidents—especially risks associated with allegations of sexual harassment against C-suite level employees—and are now commonly included in M&A agreements across industries, transaction structures, and deal sizes.
These clauses are typically included alongside labor and employment reps in M&A agreements in which the representing party, usually the target, makes a statement regarding its involvement in and/or handling of allegations of sexual harassment, sexual misconduct, or other similar incidents. They are distinct from "compliance with laws" representations—which may state that a party is in compliance with all laws including those regarding sexual harassment—in that #MeToo representations separately and specifically address the involvement of the party (including, typically, the party's directors, officers, and employees) in incidents of sexual harassment or misconduct, and/or how the party has responded to such incidents.
Although, as discussed below, there is a wide variety of these provisions used by parties, covering a spectrum of conduct and events related to incidents of sexual harassment, as with representations and warranties in M&A agreements generally, parties also use qualifiers and delimitations to tailor and narrow the scope of coverage of the representation.
The result is often that each individual #MeToo rep and warranty found in an agreement covers a very specific and constrained set of circumstances and period of time. And there are practical reasons for this.
Ideally, a party should be making a representation regarding facts and events that it has actually verified to be true and for which exceptions can be disclosed if specific disclosures are being made in the deal. In transactions involving parties with extensive multi-jurisdictional operations—like those we reviewed involving household-name parties—specific, delineated, and qualified parameters for the types of conduct and events covered by a #MeToo representation are likely a practical necessity. Without a narrower scope, the representation cannot realistically be verified to be true, and exceptions cannot be identified and disclosed.
We found a very small number of provisions containing a reference to disclosures in our review, which may be a result of the tailored and constrained construction of these provisions.
Target or Seller Reps Qualified by Knowledge
As mentioned above, we reviewed 311 M&A agreements with a value of $1 billion or greater containing #MeToo representations and warranties dated between January 1, 2018, and March 28, 2022. More than half the agreements we reviewed were executed in 2021 or 2022. Though we didn't limit our search by jurisdiction, the majority of the agreements we reviewed (85%) were governed, at least in part, by Delaware law.
Using Bloomberg Law's Precedent Search, we conducted an advanced search of M&A agreements filed with the Securities & Exchange Commission via EDGAR. (Note: The search results we reviewed can be accessed here. The total number of search results is greater than 311 due to duplicate filings made by different parties and unrelated keyword hits. These were excluded from our review.)
The results of our review reflect some of the same basic characteristics we first observed in 2019, shortly after alert deal lawyers first began drafting these provisions. For example, the vast majority (87%) of the #MeToo reps reviewed were made only by the target or seller (not mutually with the acquirer); nearly three-quarters (72%) contained some form of knowledge qualifier (often as a defined term with a capital "K" for Knowledge); 83% contained a lookback period (typically three to five years); and 66% contained a limitation as to the level of employees involved in, or subject to, the allegations or claims of sexual harassment or misconduct (most commonly "directors, officers, or employees at the level of Vice President or above").
Of the 311 agreements reviewed, thirty-nine (13%) contained mutual #MeToo representations made by both the target and/or seller and the acquirer.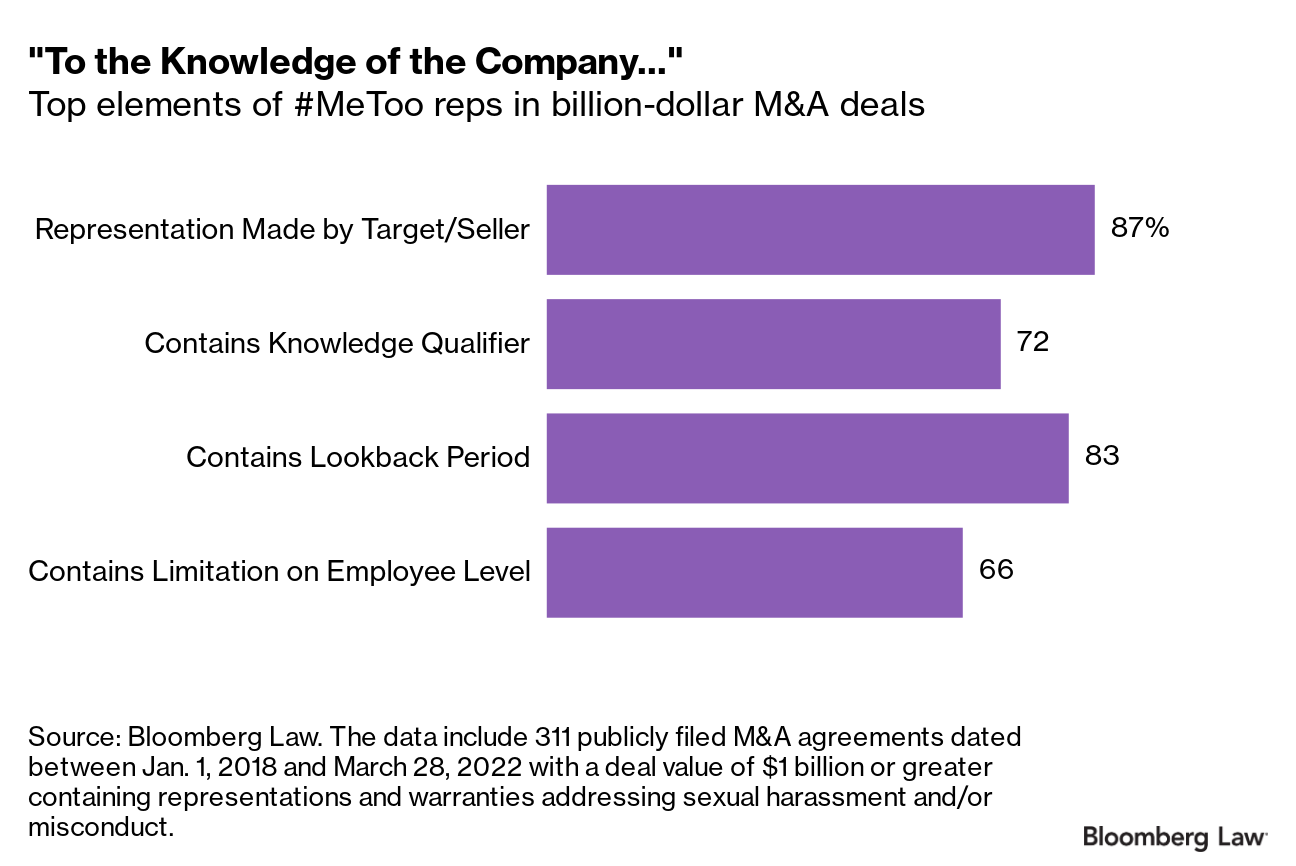 Surprisingly, only twenty-seven of the 311 agreements reviewed (9%) contained a reference to disclosures (most typically such references are framed as exceptions to the representation being made, e.g., "Except as disclosed in Schedule [X] . . .").
A small number of provisions contained two different lookback periods that were applied to different portions of the same representation. For example, some had a longer lookback period for a knowledge-qualified "no allegations" representation and a shorter lookback period for a non-qualified statement that there have been no settlement agreements. In these instances, the parties seem to have balanced the burden posed by unqualified representations on the party making the representation by shortening the time period covered, and, conversely, the party to which the representation was being made negotiated a longer lookback when it was qualified by knowledge. These examples may illustrate the extent to which these provisions can be subject to negotiation.
The majority of the #MeToo representations we reviewed were framed as statements that certain events have not occured. "No allegations" was, by far, the most popular phrasing (contained in 70% of the agreements we reviewed), with "no settlement agreements" coming in second (59%). (As discussed below, these two are most often paired together in these representations.)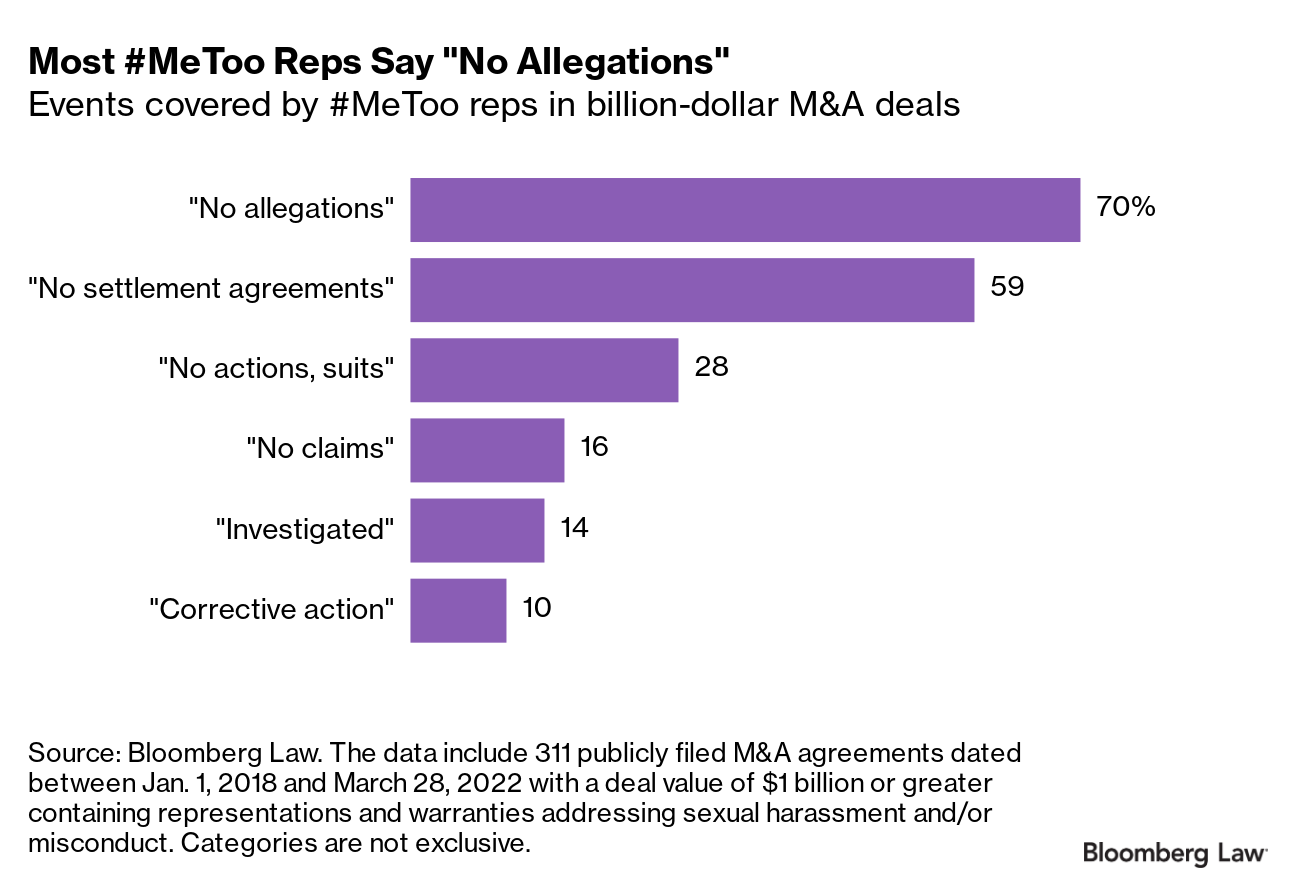 There is a wide range of other types of events that parties stated have not occurred—"no actions," "no claims," and "no complaints," among others. All of these "no [events]" statements can be qualified either by materiality (e.g., "no material allegations"), by the form of the event or how it occurred (e.g., "no written allegations" or "no written or oral allegations"), and even by how such events were communicated to the representing party (e.g., no allegations made "through the Company's anonymous employee hotline or any formal human resources communication channels").
More than one-third of the provisions we reviewed contained some form of materiality qualifier, and roughly one-tenth included a blanket materiality qualifier applying to the entire representation (e.g., "Except as would not, individually or in the aggregate, reasonably be expected to have a Company Material Adverse Effect. . ."). In a manner very familiar to M&A lawyers, multiple materiality and other qualifiers were applied at once in some instances.
A Different Approach
The most common combination of events covered in the #MeToo representations we reviewed was "no allegations" and "no settlements." (Other types of agreements, such as tolling agreements, non-disparagement agreements, confidentiality agreements, nondisclosure agreements, or other out-of-court arrangements were sometimes listed alongside settlement agreements). Sample language reflecting this common variation can be found in the graphic below as well as with annotations here.
Some parties, however, have begun to take a very different approach. Rather than making a "no [events]" statement, in 14% of the agreements we reviewed, the party making the representation stated that it had investigated any allegations of sexual harassment it was aware of, typically without making any representation that "no [events]" such as allegations have occurred—on that they are silent. This "has investigated" formulation is most commonly combined with a statement that the party has also undertaken corrective action in response to the misconduct, represented in 10% of the agreements we reviewed. Sample language reflecting this common variation can be found in the graphic below as well as with annotations here.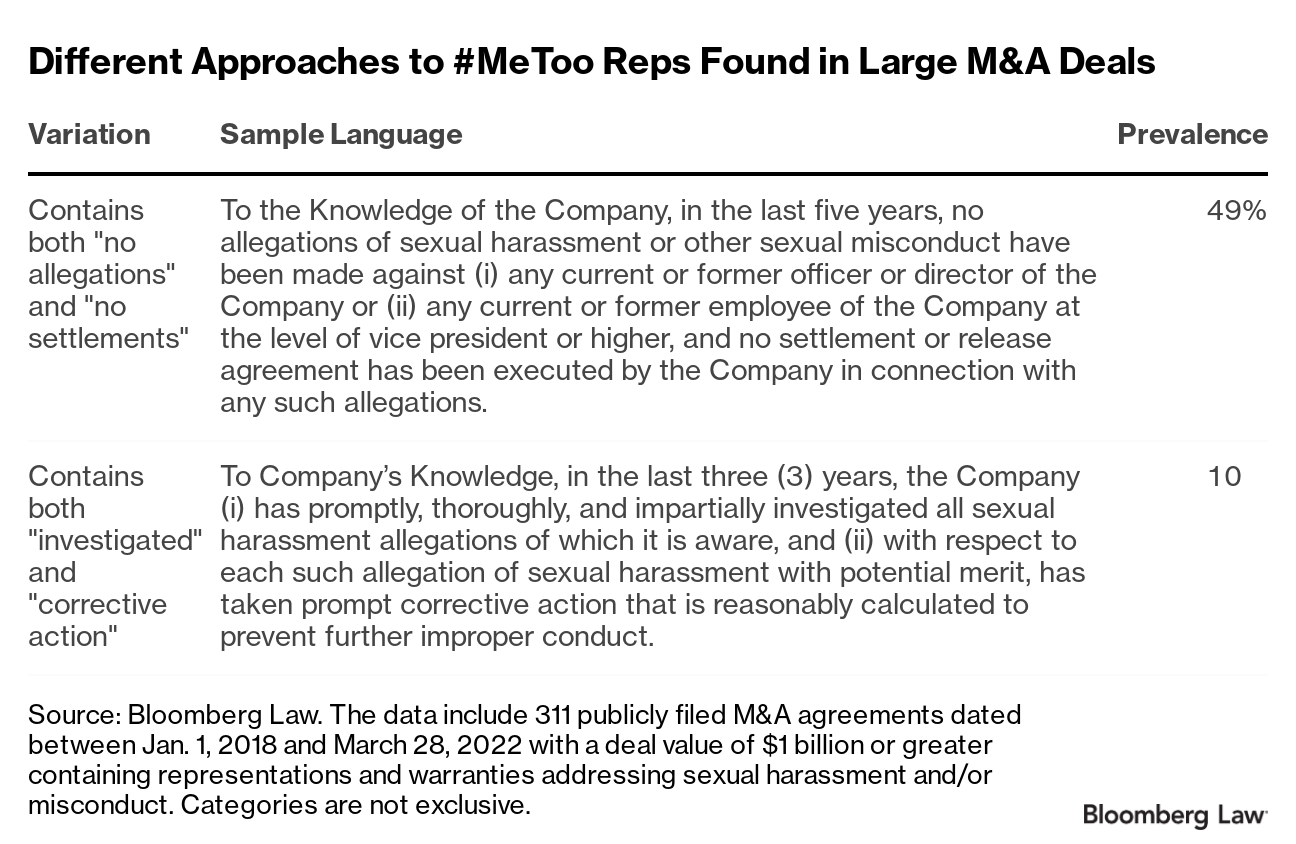 Because this "has investigated" variation is framed positively in terms of actions the party has taken, and does not address whether any allegations had been made in the first place, the scope of exceptions that would need to be disclosed here is more limited. As typically drafted, only situations in which the party became aware of an allegation and then did not investigate and/or take corrective action would need to be disclosed as exceptions, whereas a "there have been no allegations" clause variation would require any instances of allegations to be disclosed. In short, this variation is a smart choice for targets and sellers making #MeToo representations if they are confident in the consistency of their policies and procedures relating to the handling of such incidents and are in a position to verify the accuracy of the representation. This variation is also, arguably, favorable from an acquirer's perspective, because it addresses how the target handles and responds to incidents, not just whether they have occurred.
Discrimination, Too
In addition to a wide range of events (e.g., allegations, suits, claims) covered, the current research revealed a broader spectrum of misconduct covered by these representations than we found in our 2019 research. In addition to the typical "sexual harassment" and "sexual misconduct" covered by #MeToo representations, nearly half of the provisions we reviewed also covered some form of discrimination.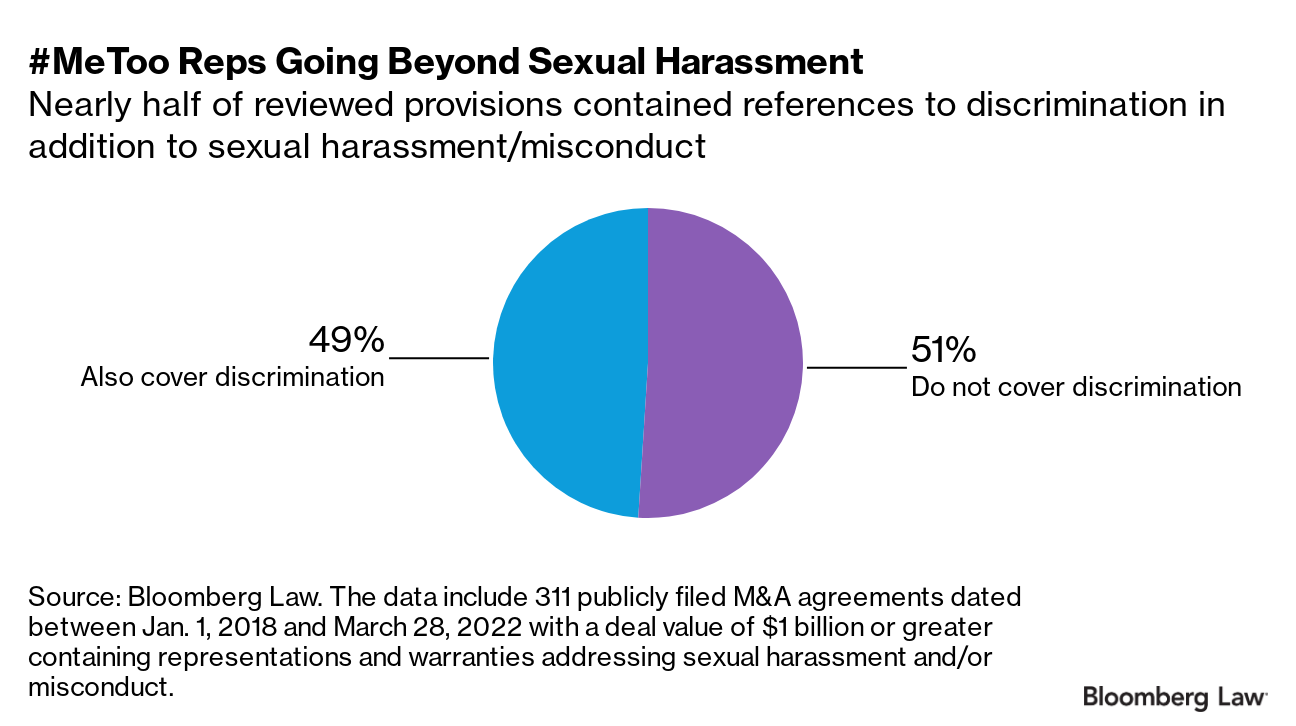 Some of these instances covered sex or gender discrimination only, others called out racial discrimination specifically, and there were others that covered discrimination broadly without a limitation as to the type. And some representations covered more specific forms of workplace misconduct such as "hostile work environment" or "retaliation."
While grouping sexual harassment together with discrimination is not new to M&A agreements—as they have been commonly seen together in "compliance with laws" labor and employment representations for decades—these provisions are different. In these instances, it appears the parties have built upon the classic #MeToo representation and warranty, following the same structure and explicitly referencing sexual harassment, by simply adding discrimination and other categories of misconduct.
This shift may be interpreted as an increasing recognition by deal parties of a need to explicitly address this type of misconduct outside the bounds of the typical "litigation" and compliance with laws (or similar) representations and warranties.
Key Takeaways
#MeToo representations and warranties, much like the movement itself, are very much alive and well, and continue to be a common inclusion even in very large deals. There is a wide variety of drafting options available to parties that are tailorable to parties' circumstances. And our review shows that some parties are taking creative approaches and even totally rethinking the classic formulation.
---
This work was originally published on Bloomberg Law as "ANALYSIS: A Fresh Look at #MeToo Reps & Warranties in M&A Deals" on Jun. 7, 2022. Copyright 2022 by The Bureau of National Affairs, Inc. (800-372-1033) http://www.bloombergindustry.com. Reproduced with permission.