Learn more at the meeting of the ABA Business Law Section's Legal Analytics Committee in Washington, D.C. from 8:00 a.m. to 10:00 a.m. on September 13th.
---
"Software is eating the world," renowned venture capitalist Marc Andreessen observed in 2011. "Over the next 10 years, I expect many more industries to be disrupted." Sure enough, an important theme in the decade-long, post-recession economic expansion has been "disruption," with nimble, venture-backed upstarts upending mature industries, from real estate to retail and finance.
One sector, however, has proven largely resilient to Silicon Valley's Schumpeterian narrative. Years of "lackluster" investment in legal technology, or LegalTech, have led to the "conventional wisdom" that investors have "no interest" in the space. However, a growing confluence of factors—adoption by industry leaders, a maturing innovation ecosystem, and increasingly available venture funding—suggest that LegalTech may finally be nearing its long-sought inflection point.
Over the last decade, venture capital activity has expanded, paralleling the growth of the rapidly-scaling companies VC investment supports. As shown below, in 2018, U.S. VC firms invested over $136 billion—up fivefold from 2009—across nearly 10,000 transactions. Average transaction values rose to almost $14 million in 2018, double the 2014 figure. 
A well-documented theme has been data-driven optimization of mature industries that have historically underutilized technology—e.g., transportation, office rentals and television. More recently, financial services—a complex, competitive and intricately-regulated industry—has seen a surge of activity.  According to CB Insights data, in 2018, global FinTech investment exceeded $40 billion; the sector boasts 39 "unicorns," which are companies valued at over one billion-dollars each; collectively they are worth $147.4 billion.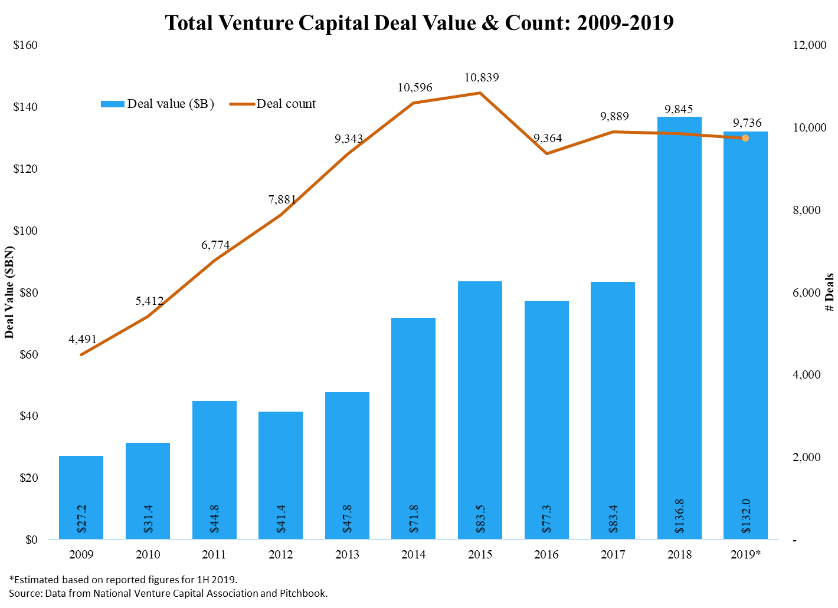 In contrast, for myriad reasons, LegalTech investment volume and performance "as a whole, has been more-or-less disappointing." To put that in perspective, between 2009 and 2019, the global LegalTech sector (as defined below) raised an aggregate $8.9 billion—about $400 million less than the $9.3 billion Uber raised in a single January 2018 round.
Estimates of LegalTech's market size and investment trends vary considerably based on how one defines the space, which encompasses a broad range of products and services across the legal value chain, including analytics, research, case management and marketplaces. The analysis below aims to provide a macro view of global investment trends in LegalTech and, correspondingly, uses an intentionally broad definition, encompassing companies applying technology to law as well as compliance.[1]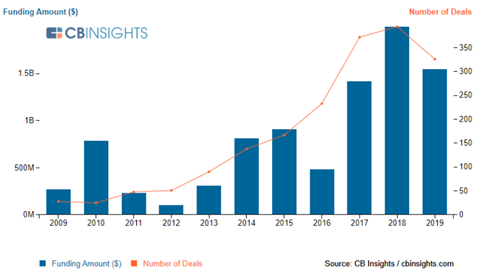 In 2010, investors expressed growing interest in LegalTech, committing $700 million to the space, more than double 2009 investment levels. However, a relatively slow adoption curve—particularly compared to other sectors—disappointed the market, largely muting activity between 2011 and 2016.  
Somewhat ironically, the drop-off in LegalTech investment coincided almost perfectly with the "tipping point" in LegalTech company formation around 2010 and 2011, shown below at left. Growth was particularly robust in data-intensive sub-sectors, such as legal analytics and document automation, which have been buttressed by development of essential technologies like machine learning, AI, and natural language processing. At the same time, as shown below at right, LegalTech exits—overwhelmingly through M&A (in blue) rather than IPOs (in orange)—have been steadily increasing. 2018 saw nearly 200 liquidity events and 2019 is well on track to exceed that.
| | |
| --- | --- |
| LegalTech Company Formation | Investment Exits (Global) |
|   |   |
Venture capital investment in LegalTech renewed in 2017, and 2019 is on track to be a record year for both investments and exits. Past ebbs notwithstanding, the confluence of a large total addressable market, increasing demand, a growing value proposition, and favorable venture markets provide powerful tailwinds to support the sustainability of LegalTech investment.
First, LegalTech has the potential to disrupt significant parts of a large and profitable space, thus far largely untouched by technology. In 2016, U.S. legal service revenues totaled $437 billion; average AMLaw100 margins typically exceed 40%. At the same time, the sector chronically underinvests in technology—spending, by some measures, ten times less than financial firms—thus remaining "persistently stuck in the 90s." Together, these conditions suggest a particularly target-rich environment for disrupters across large parts of the legal value chain.
Second, LegalTech is benefitting from a robust, secular shift in demand. This has been particularly notable in the B2B space, with forward-thinking law firms embracing technology as a logical competitive advantage. The pressure to maintain margins in a highly competitive environment is also likely to encourage investment in efficiency enhancements. Correspondingly, law firms have started LegalTech innovation labs, venture capital arms, and development partnerships.
Third, technological innovation and business model maturation have increased LegalTech's value proposition in both the B2B and B2C spaces. For instance, on the B2C side, innovative companies like Atrium provide viable substitutes for legal services; on the B2B end, platforms like Clio help optimize firm operations. This maturation has benefitted considerably from a growing legal innovation ecosystem, which includes law firms, along with in-house legal departments—e.g., Liberty Mutual's "legal tech transformation"—and research hubs, like Georgia State's Legal Analytics and Innovation Initiative.
Finally, venture market dynamics appear favorable for continued LegalTech investment. VC firms have raised increasingly large funds and as a result have record 'dry powder' available. At the same time, perception of the LegalTech space has been materially 'de-risked' following high-profile transactions by blue-chip investors, like Andreessen and Y-Combinator. Furthermore, the final chart below illustrates that LegalTech is still very much in its early innings, with 85% of investments at the seed or Series A stages and over 50% under $1 million. This nascency highlights LegalTech's largely untapped potential for disruptive impact as well as outsized returns.
LegalTech Investment Summary – Stage & Amount Raised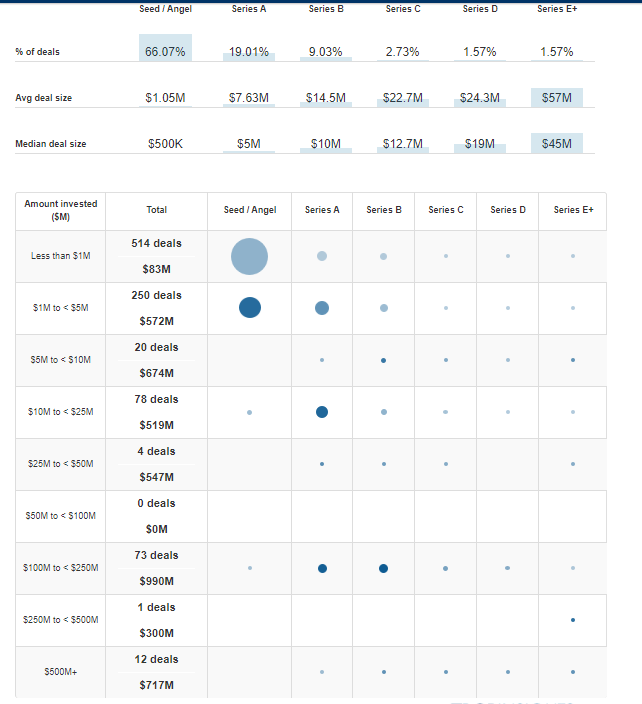 ---
[1] Analysis based on Crunchbase Insights' database.  Methodologically, data set aggregates the following seven categories of legal and compliance-focused start-up companies: (i) internet Software & Services – legal; (ii) Internet Software & Services – compliance; (iii) Software (non-internet/mobile) – legal software; (iv) Software (non-internet/mobile) – compliance software; (v) mobile software & services, specific sub-industries – legal; (vi) mobile software & services, specific sub-industries – compliance; and (vii) Business products & services – legal services.